---
Raise wa Tanin ga Ii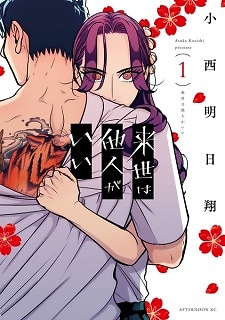 Жанр
Drama Mature Psychological Romance School Life Seinen

Линк за четене

Автор
KONISHI Asuka

Година
2017

Резюме

Yoshino Somei would have been a normal high-schooler if not for the fact that she is the granddaughter of the leader of the Osaka-based Somei Group, the Kansai region's largest yakuza organization. One day, Yoshino hurries home after hearing of the news about the unification of Kansai and Kanto's biggest syndicates, the Somei and the Miyama groups. This, according to the article, will result in a marriage of the leaders' grandchildren—one of whom is Yoshino herself! Despite her best efforts to annul the arrangement, Yoshino has to go to Tokyo to visit her fiancé, Kirishima Miyama, who is unexpectedly nice and charming.

During their first meeting, Yoshino is swept up in various events and becomes unable to refuse moving to Tokyo, which is why, half a year later, she now lives with the Miyama group. At school, she soon realizes that Kirishima is very popular, so her relationship with him garners the hate of his fangirls and subsequently results in bullying. To make matters worse, Kirishima could not be further away from her prince charming since he, after all, was born to be a yakuza member.

Raise wa Tanin ga Ii follows Yoshino and her new life in Tokyo that is filled with nothing but troubles connected to the underworld. However, though she wishes to be as far from it as possible, this isn't Yoshino's first time dealing with the world of the Yakuza...

Коментар

Откога търся такова нещо! Може би най-добрата манга, която съм чела близките години. На пръв поглед ми се стори като някаква комерсиалка, където главната спокойно може да бъде заменена от надуваема кукла, но в последствие установих, че няма нищо общо. Има много добър сюжет, пълен с интриги и в романса и в криминалната част. Главния е разгонен дебил, жена му е скрита лимонка, която в последствие открива един приятен харем от badass бишита. Няма мелодрама и досадни ревливи моменти с фончета със звездички, всичко е супер хард, както и характера на главната. Почти сигурна съм че ще стане някоя кралица на Якуза.
Единственото лошо нещо е, че чаптърите излизат на месец, на половинки и се точи бавно. Надявам се да продължи в същия дух и да не я прецакат.